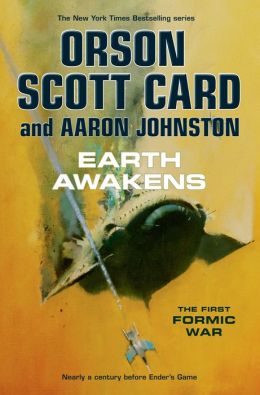 Earth Awakens (2014)
- Earth Awakens. Orson Scott Card and Aaron Johnston. 2014. Tor. 400 pages. [Source: Library]
I enjoyed reading Earth Awakens the third in a new series by Orson Scott Card. At first, I had a hard time reconnecting to all the characters because it's been a year since the last book. There are many characters to keep up with after all. But by the time I was halfway through this one, I was hooked once more. I liked the characters. I didn't always like how they acted. But Card can write flawed characters that I actually like.
In this third book, all the characters are trying to fight the Formics. Some are working together officially to defeat the aliens. Others are more on their own with their own plan. For example, some characters are fighting them on earth; other characters are fighting them in space. But by the end of this one, all the characters stories have merged into one which is probably for the best.
Series books are always so difficult to review because to talk about plot reveals spoilers from the other books. But essentially I liked this one. Maybe not love, love, love but a good, solid like.